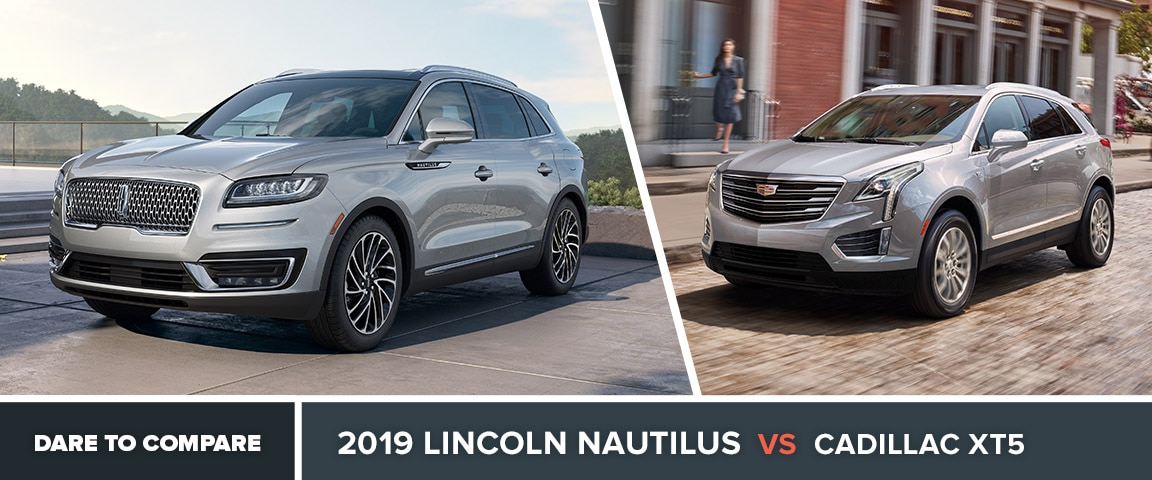 If you are shopping for a luxury midsize crossover for your family, there are a lot of great options to choose from. Two popular choices are the 2019 Lincoln Nautilus and the 2019 Cadillac XT5. With this comparison, you will see that the Lincoln Nautilus is the better choice.
Engine Options and Efficiency
If you choose the Lincoln Nautilus, there are two engine options to pick from. The standard engine is a turbocharged 2.0-liter four-cylinder with 245 horsepower and 280 lb-ft of torque. This engine will give you better fuel economy with an EPA-estimated 21 mpg in the city, 26 mpg on the highway, and 23 mpg combined.*
For more power, the Lincoln Nautilus has an available turbocharged 2.7-liter V6 rated at 335 horsepower and 380 lb-ft of torque. Even with the increased output, this engine is still efficient with an EPA-estimated 20 mpg in the city, 27 mpg on highway, and 22 mpg combined.*
If you choose the XT5, there is only one engine option, a 3.6-liter V6 with 310 horsepower and 271 lb-ft of torque. Not only is it less powerful than the Lincoln Nautilus and its available 2.7-liter V6, but it's also less efficient with just 19 mpg in the city and 26 mpg on the highway.
Cargo Volume
One thing that families will always need is lots of space. Even with just one or two kids, a family road trip requires lots of luggage. You will be able to fit more inside the Lincoln Nautilus. Behind the second row, it offers 37.2 cubic feet of cargo volume. In the XT5, you only get 30 cubic feet. For times when you need to haul more, you can fold the seats down in both models. However, once again, the Lincoln Nautilus gives you more space with 68.8 cubic feet compared to just 63 cubic feet in the Cadillac.
Passenger Space
If your family enjoys riding comfortably without feeling cramped, choose the Nautilus. It comes with 108.3 cubic feet of passenger volume, while the XT5 only has 104.5 cubic feet.
The stylish new Lincoln Nautilus is available to test-drive at Mountaineer Lincoln. Stop in and see for yourself why Lincoln makes the superior American luxury vehicle.